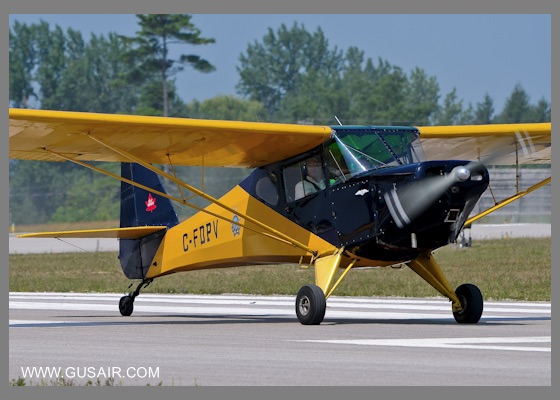 The Edenvale Classic Aircraft Foundation (ECAF) exists to preserve, enjoy and educate the public on the history of classic aircraft in Canada. To this end, the ECAF currently operates a fleet of four aircraft; DeHavilland DH82a Tiger Moth, Fleet PT-26 Cornell II, Piel CP-605 Diamant and a Fleet 80 Canuck.
If you are a licensed Canadian pilot and interested in learning how you can become a Member and fly our aircraft, read more here…

GENERAL
1.    All Sponsors must be paid up ECAF members.
2.    ECAF Board of Directors must approve all Sponsoring pilots
3.    Sponsors will be expected to contribute to the operation of the Foundation with "sweat equity".
4.    Sponsorships vary according to type. Details below.
5.    A Sponsorship is valid for the current calendar year. (Jan 1-Dec 31) No rebate or carry-over of unused hours will be considered, except as noted below.
6.    Warbird, Trainer Gold and Trainer Silver Sponsorships entitle you to carry forward a maximum of 5 (five) unused hrs into the next year only if you have re-sponsored for that year.
7.    Warbird or Trainer Gold Sponsorships purchased after Labour Day are valid from the date of purchase until Dec 31 of the following year.
8.    The first installment must be paid before any flying in the new calendar year.
9.    All training, check flights and currency flying are part of sponsor time.
10.   Sponsors with less than 15 hrs tailwheel time in the last 3 years will be charged an additional one-time fee of $250.
11.   If an aircraft becomes grounded for an extended period, hours may be flown on other ECAF aircraft at the discretion of the Board of Directors.
12.  For solo flight, the member must have 150 hrs total time and minimum 15 hrs tail wheel time.
13.   With the Tiger Moth and Cornell, only air shows/fly-ins where we are permitted to do rides will generally be considered.
14.   Hours flown to attend air shows/fly-ins as well as fund raising flights approved by the board do not count towards sponsorship time.
15.   Extended/overnight flights may be approved at the discretion of the Senior Pilots.
16.   Fuel costs are included in the sponsorship.
17.   In the event of an accident involving our aircraft, the operating pilot will be responsible for the deductible of $2000.
18.   All Sponsors must sign a copy of the Sponsorship Program and Waiver of Liability Form and place it in their file.
---
MEMBER RATES
   TRAINER SPONSORSHIP
The Canuck and Diamant are sponsored at the following rates:
Bronze $750 for 5hrs of flying per annum.
Silver $1400 for 10hrs of flying per annum.
Gold $1900 for 15hrs of flying per annum.*
* note: First-year Sponsors are only eligible to purchase Gold level sponsorships due to higher training and consolidation requirements.
   WARBIRD SPONSORSHIP
The Tiger Moth and/or Cornell are sponsored for $1900 per annum. This sponsorship allows you 15 (fifteen) hours of flying, with 5 (five) hours on the Tiger Moth or Cornell and the  remainder on the Trainers, as applicable. Dual sponsors are allowed 5 (five) hours on the Tiger Moth and Cornell with the balance on the Trainers.
Currently we limit the total number of pilots on the Tiger Moth and Cornell to 6 pilots each. If a position opens, or demand warrants additional crew, an interested Trainer aircraft sponsor will be invited to commence training. Criteria for being invited include, but are not limited to; the likelihood of the candidate begin trained to solo standard within the 5 (five)  hours of personal time, the amount of dedication and 'sweat equity' the candidate has given to the organization, and the individuals potential availability.
 Volunteer Membership,  required for all pilots       $75
All sponsorships run on a Calendar year basis. 
Pilots must maintain ECAF recurrency requirements listed in the Pilots Manual.
  PILOT TRAINING INFORMATION: 
 1.   All sponsors must be ECAF members in good standing, meet the requirements of the Insurance provider (see below) and all requirements of CARS. Pilots will provide a           copy of their current licence, medical, logbooks and any additional information as deemed necessary prior to Checkout.
2.   All pilots will receive an annual Check Flight with a Senior Pilot. Initial Checkout will normally require a Check Flight by a second Senior Pilot. A Check Flight must have been performed within the prior 12 months to be valid. The Check Flight will be performed in the "highest type flown". (Tiger Moth – Cornell – Canuck) The Piel will require a separate check ride each due to the unique flight characteristics and systems.
3.   The Flight Training Unit will review all Check Flight Reports. In the event of any disagreements, the pilot concerned can have the Report reviewed by the Board of Directors. It is understood that the decision of the Board is final.
4.   Pilots will immediately advise ECAF Flight Training Unit of any change in their licence or medical status.
5.   After any Aircraft Accident, Incident or Violation, pilots may be grounded pending investigation. Reinstatement to Solo privileges on ECAF aircraft will be at the discretion of ECAF Flight Training Unit, and will normally require additional training and check flights.
6.   All aircraft will be operated in accordance with the Pilots Operating Handbook and the ECAF Handbook 2015.
 ECAF SPONSOR PILOT REQUIREMENTS
•Minimum of 150 hours Total Time.

•Minimum 15 hours Tailwheel before solo.

•Minimum 3 landings to a full stop every 60 days*. (*note: if new on type, every 30 days)

•Additional requirements as deemed necessary.