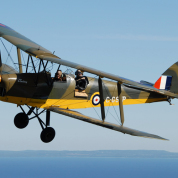 Savour the very special experience of a unique flight in two of the world's most legendary, historic and iconic aircraft – the Tiger Moth or the Cornell.
Take to the air for a bucket list flight in one of our historic and legendary aircraft! Marvel at the magical view from on high! Curve along the white sand beaches of Georgian Bay. Be astonished at the indigo-turquoise-green waters! View the 450 million year old caprock of the Niagara Escarpment! See verdant green valleys, pastoral farmlands and the famous Minesing Swamp. All in one member flight! Bring your camera!
Member flights make great gifts – Birthday, Christmas, Father's Day and Anniversary presents are taken care of easily. Make it a surprise and present someone a flight certificate for their special day. Contact us to Book Your Member Flight … Phone:(705) 818-2223 or Email: info@classicaircraft.ca
All passengers must be members of the Edenvale Classic Aircraft Foundation. Membership is $50 per calendar year.
---
1943 Fairchild PT-26A Cornell   Fly the plane that trained WWII fighter and bomber pilots! You can be the next Walter Mitty! (1 passenger)
Membership upgrade
20 min / $195,  40 min /  $295      

Contact us to Book Your Flight … Phone:(705) 818-2223 or Email: info@classicaircraft.ca  
---
1943 de Havilland DH.82A Tiger Moth   Savour the thrill and delight of open cockpit flying! We supply helmet and goggles!  (1 passenger)
Membership upgrade
20 min / $195 ,  40 min / $295

 Contact us to Book Your Flight … Phone:(705) 818-2223 or Email: info@classicaircraft.ca
---
 Piel C.P. 605 Super Diamant   The sleek French sportster that pilots call delightful! Passengers say the view is fabulous! (1 passenger)
Membership upgrade
20 min / $135,  40 min / $215

 Contact us to Book Your Flight … Phone:(705) 818-2223 or Email: info@classicaircraft.ca
---
1946 Fleet 80 Canuck   Canada's first post WWII airplane designed solely for personal use! Countless private pilots learned to fly in it! (1 passenger)
Membership upgrade
20 min / $100,  40 min / $170

 Contact us to Book Your Flight … Phone:(705) 818-2223 or Email: info@classicaircraft.ca
---
---
LEARN ABOUT THE AIRCRAFT HISTORY:  Tiger Moth     Cornell     Canuck     Diamant