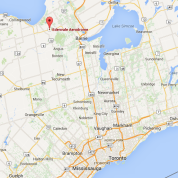 The Edenvale Classic Aircraft Foundation is located in HANGAR F, at the EDENVALE AERODROME, 5195 HWY 26 EAST., STAYNER, ON, L0M 1T0
Flights are pre-booked and our Hangar is open weekly on Thursdays between 09:30am – 4:00pm (or later if there are flights taking place)
The public is welcome to stop by for a visit, view our aircraft and learn about the restoration of our fleet of aircraft.
We welcome new volunteers and pilots who are qualified to fly our aircraft.
EMAIL:  flights@classicaircraft.ca  or info@classicaircraft.ca
If you are a pilot seeking information about how you can become a Member and fly our airplanes, view the Pilot Sponsorship page.
BOOK A FLIGHT:  705.818.2223 (please leave a message on the tape, we will get back to you asap) or send us a message below.
EMAIL US AT:  flights@classicaircraft.ca  or info@classicaircraft.ca