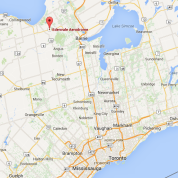 Half way between Barrie and Collingwood on Highway 26.
The Edenvale Classic Aircraft Foundation is located in HANGAR F, at the EDENVALE AERODROME, 5195 HWY 26 EAST., STAYNER, ON, L0M 1T0
Flights are pre-booked and our Hangar is open weekly on Thursdays between 09:30am – 4:00pm (or later if there are flights taking place)
The public is welcome to stop by for a visit, view our aircraft and learn about the restoration of our fleet of aircraft.
We welcome new volunteers and pilots who are qualified to fly our aircraft.
EMAIL:  flights@classicaircraft.ca  or info@classicaircraft.ca
If you are a pilot seeking information about how you can become a Member and fly our airplanes, view the Pilot Sponsorship page.
BOOK A FLIGHT:  705.818.2223 (please leave a message on the tape, we will get back to you asap) or send us a message below.
EMAIL US AT:  flights@classicaircraft.ca  or info@classicaircraft.ca